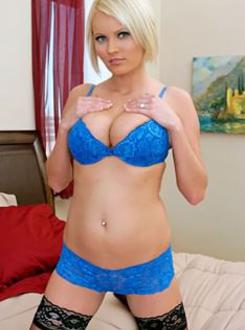 Birthday: October 31, 1984 (39 y.o.)
Place of Birth: Brookville, Indiana
Home: United States / IN - Indiana
Measurements: 34DD-23-34
Height: 175 cm (6 ft 9 in)
Weight: 51 kg (113 lbs)
Eye Color: Blue
Hair Color: Blonde
Nationality: Unknown
Ethnicity: Caucasian
Tattoos: Playboy bunny - lower back; upper back
Piercings: Piercing
Fake Tits: No
Career: Retired
Career Start/End: 2006 - 2009 (3 years in business)
Aka: Hannah Hilton
Some people chose their professions, and sometimes the profession chooses the person. Hanna Hilton is living proof; this busty blonde was destined for porn! Growing up a country girl from the mid west, Hanna Hilton did all the regular things for a small town girl: she was a cheerleader in high school, worked at a Dairy Queen in the summer, and never had any intention of becoming an adult star at all. But when she got her senior yearbook photo taken, the photographer knew a good thing when he saw one, and invited her to do a little modeling. What started as some swimwear and lingerie modeling quickly turned into nude photos, and it wasn't long before she was one of the world's hottest soft core sensations. Finally, Hanna stopped resisting fate and entered into the hardcore world with one of the hottest debuts in porn history, right here on Busty Moms Video! So make sure you check out her scenes to see one of the most amazing racks on the planet put to good use.